Understanding reports
Reports summarize information and activity related to certificates, administrator accounts, domain control, and general system behavior. They are particularly useful when troubleshooting issues related to certificate life-cycle management.
Reports can be generated and downloaded on the Reports page.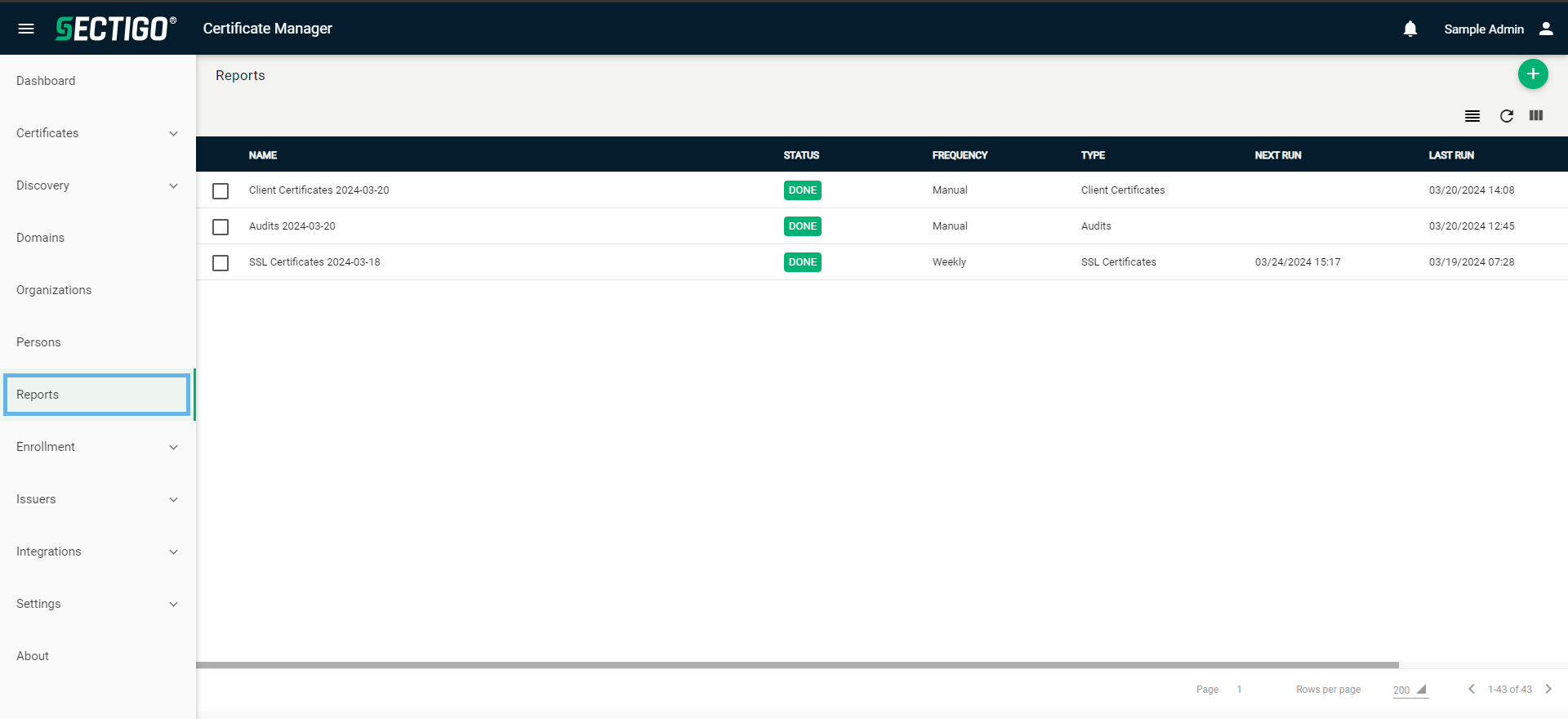 Report types
The following table describes the report types that can be generated. The available report types are dependent on your administrator role.
Report
Description

SSL Certificates

SSL Certificate reports provide details about SSL certificates and their related management activities.

Some of the details contained in the report include:

Certificate metadata

Enrollment method

Certificate requester and approver

Associated organization and department

Certificate status

Client Certificates

Client Certificate reports provide details about client certificates and their related management activities.

Some of the details contained in the report include:

Certificate metadata

Enrollment method

Certificate requester and approver

Associated organization and department

Certificate status

Code Signing Certificates

Code Signing Certificate reports details about code signing certificates and their related management activities.

Some of the details contained in the report include:

Certificate metadata

Associated organization and department

Certificate status

Device Certificates

Device Certificate reports provide details about device certificates and their related management activities.

Some of the details contained in the report include:

Certificate metadata

Enrollment method

Certificate requester and approver

Associated organization and department

Certificate status

Activity Log

Activity Log reports provide a highly detailed log of all actions recorded by SCM.

Some of the details contained in the report include:

Administrator login times

Emails and notifications sent

Modifications to users

Modification to templates and profiles

Certificate requests

Sent Notifications

Sent Notifications reports provide a detailed summary of notification emails by SCM.

Some of the details contained in the report include:

Type of notification

Receiving admin's email

Subject content

Notification date

Private Key Agent Activity Log

Private Key Agent Activity Log reports provide a detailed summary of the actions performed by the PKS Agent.

Some of the details contained in the report include:

CSR generation

PK storage

DCV

DCV reports provide a detailed summary of registered domains with their DCV status.

Some of the details contained in the report include:

Domain name

Domain status

DCV method

Validation expiration date

Admins

Admins reports provide details about the enrolled administrators accounts.

Some of the details contained in the report include:

Admin account name

Associated email

Role and permissions